Here are the shoes Kobe Bryant will be wearing on Christmas Day.  They are "Grinch" themed, and I have to tell you that I love them.  I ran across this article and they are called the "awful."
Sneakers are supposed to be fun, and these are.  Come on where's the Christmas spirit?  Besides, if anybody should embrance the grinch style, it's the Black Mamba.  On second thought, maybe he could loan LeBron a pair.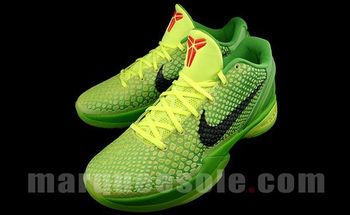 That's right. On Christmas Day, Kobe Bryant will be wearing some very interesting sneakers. They will be appropriately "Grinch-themed," and they will be available to purchase one day after Christmas (which is an interesting marketing strategy, but I'm no expert).
The idea of Kobe Bryant embracing his "Grinch" image is a very good idea.
However, the design of these shoes is not.
I believe "awful" would be the appropriate word.