With excitement and sadness this morning, the Space Shuttle Atlantis blasted off on the final flight of the program.  I was lucky enough to be able to watch the launch with my children.  I have grown up on the shuttle.  I remember the first launch.  I remember John Glenn returning to space.  I remember sitting in my house and watching Challenger explode.  My wife and I watched the pieces of Columbia from our house in Texas as they fell to Earth.
I think about the memorials at Arlington National Cemetery and how moving those were for me.  What an amazing accomplishment it is for our country to make space travel a routine affair.  I hope we return soon and this thrill can be a part of the lives of my children as well.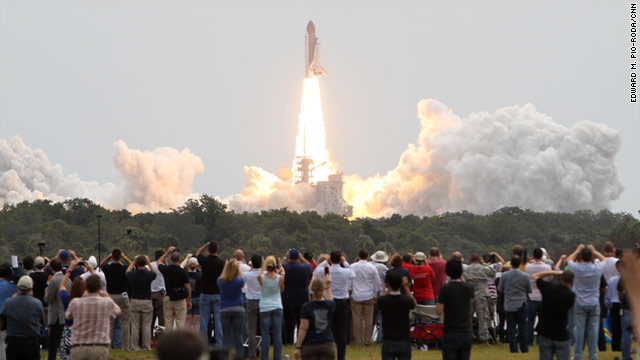 Kennedy Space Center (CNN) — The space shuttle Atlantis lifted off Friday morning on the final mission of America's 30-year space-shuttle program.
The four-member crew blasted off on a 12-day mission just before 11:30 a.m. The four — all shuttle veterans — are on their way to deliver supplies to the International Space Station.
The possibility of storms had raised doubt about whether the launch would take place as planned, but NASA gave the shuttle a "go" for launch a few minutes before liftoff.
Thousands of people, including some who came to Kennedy Space Center three decades ago for the first launch, were gathered to watch. Almost a million people were expected to be on hand to witness the historic event.